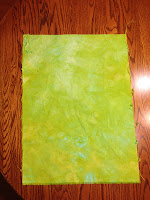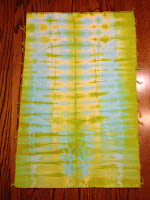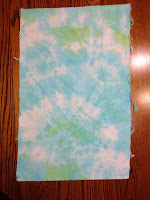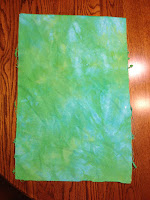 These were the fabrics created in my snow-dyeing experiments a couple of days ago.
Yesterday I had the day off and since dyeing is a fairly restful activity for a sick day (still coughing!), I decided to review Jane Dunnewold's
"The Art of Cloth Dyeing" class in Craftsy
that I'd purchased and watched some months ago. I'd bought the kit of supplies from Craftsy, figuring that it was simpler and just about as cost-effective to buy the kit Jane had put together with the basic supplies needed than it would be for me to chase all over the Internet finding and ordering them.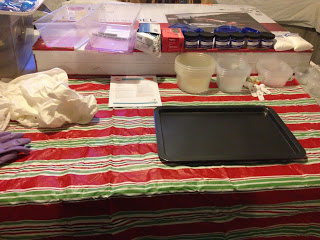 I felt a bit like a mad scientist in my basement, with rubber gloves and mask on, hunched over a table mixing chemicals. It was a hoot.
I started out well organized. Look how neat and clean everything is.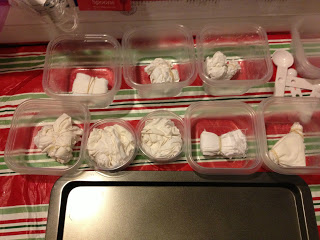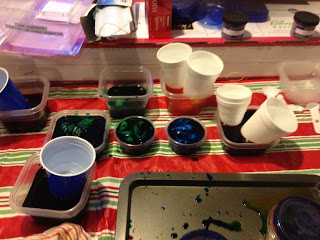 And here are my fabrics, neatly wadded, scrunched, folded, banded, or bundled, waiting patiently....
Soon enough there were drips and puddles and bins of things in wonderful, hopeful color baths.
(By the way, those screw-on lids on Rubbermaid "Twist n' Loc" containers? They seal tight about half the time. Ask me how I know.)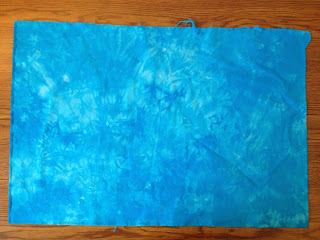 And lookie what happened.
This one was straight turquoise.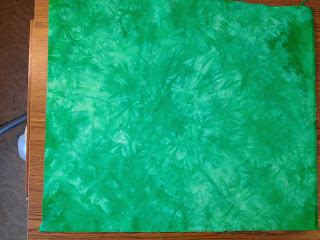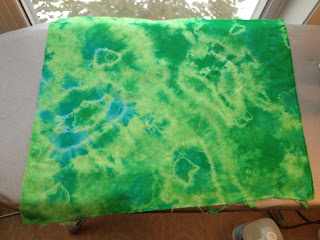 This is roughly the same mix of turquoise and yellow that I did with the snow-dyeing above.
The colors are so much more brilliant!
I was shooting for teal on this one, using less yellow proportionately to the turquoise, but I ended up with this wonderful abstract art instead. Love it.
(Scrunched and rubber-banded little "buns" of fabric in a few places.)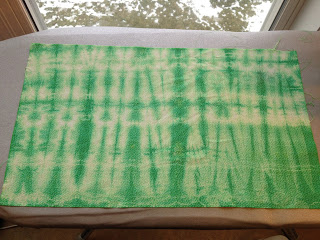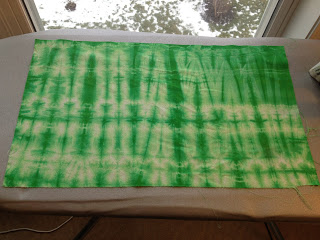 This is a white tone-on-tone that I had in my stash and sacrificed to the Cause of Experimentation. In this picture, the side showing is the white tone-on-tone side. The white print acts as a resist for the most part--it's only dyed the lightest green but mostly stayed white. I wasn't too fond of this side.
(Accordion fold, rubber-banded in a couple of places.)
But the reverse? Here's the wrong side of the above fabric. Very, very nice.
It was a fairly dense print on the fabric to start. It would have been more interesting if there were less of the print to resist and more of the background to get dyed.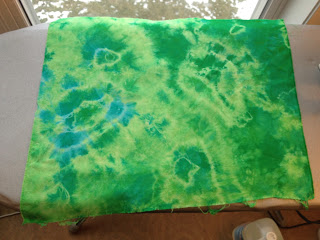 This was in a mix that was more turquoise than yellow. I was hoping for a teal, but instead I got this really funky mottled effect. Love!
(Scrunched up with rubberbands holding little mini-buns here and there.)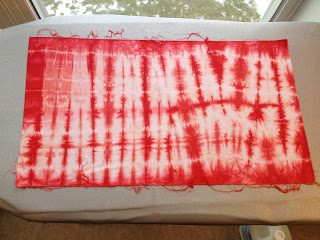 Yummy red. Straight-up red, not mixed with anything.
(Accordion fold with a couple of rubber bands.)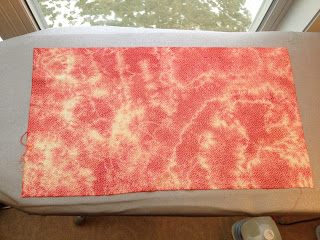 Another section of that white tone-on-tone. I was shooting for orange here. Almost got it. I have to play more with my color recipes.
Again, I wasn't as happy with this side as I was with...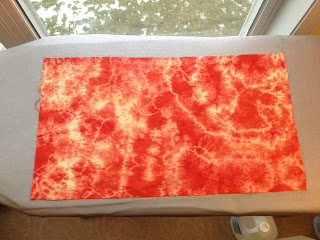 ...this side. Wowzer.
(This one was scrunched up tight and then I wrapped the ball with a couple of rubber bands to hold it as tightly closed as possible.)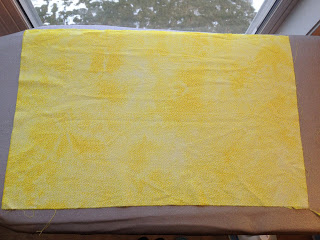 More of the white tone-on-tone, this time dyed with straight-up yellow. (I think this one was "Sun Yellow.")
The mottling comes out better in this picture than in real life. It mostly just looks like yellow fabric.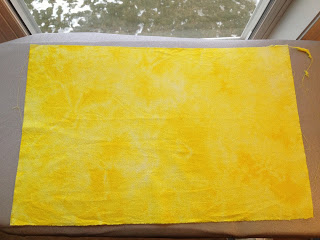 And the wrong side of the fabric. Although in this case, I'd use this as the right side.
Hmm. Looks pretty intense here. It's not that bright--just a nice, springy, lemon yellow.
And my favorite result of the day? Here we go, drum roll please.....
BAM!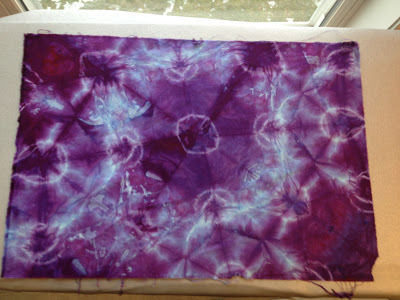 Now THAT'S what I'm talking about.
I mixed turquoise and red for purple, folded the fabric in a triangle and used a couple of rubber bands on two of the ends.
I
Love
This.
Unfortunately, I've run out of dyeable fabric--at least, what I'm willing to sacrifice from my stash for the time being, so I've got some PFD (prepared for dye) fabric on order now from
. You don't have to have PFD, by the way. I'm just testing various things to see what I like best. Some of the above fabric was Kona PFD fabric I'd picked up at Joann's awhile back. Some was white/off-white quilter's cotton I'd gotten in the scrap box from Fat Quarter Shop, and some was the aforementioned tone-on-tone. I washed the scraps and tone-in-tone with Synthrapol to prep it for dyeing. It all took the dye beautifully.
Oh, and that other thing...my second finish for 2013...
"Are You Getting Sleepy"
aka The Poppies Quilt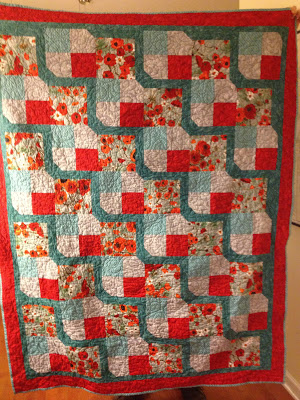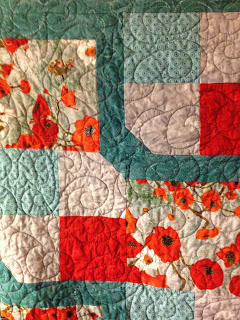 Detail of pantograph quilting by